The BWC 2018, on May 6th, in Turin, has met the expectations: a great event for the Bromptonians, in the framework of a successful Bike pride.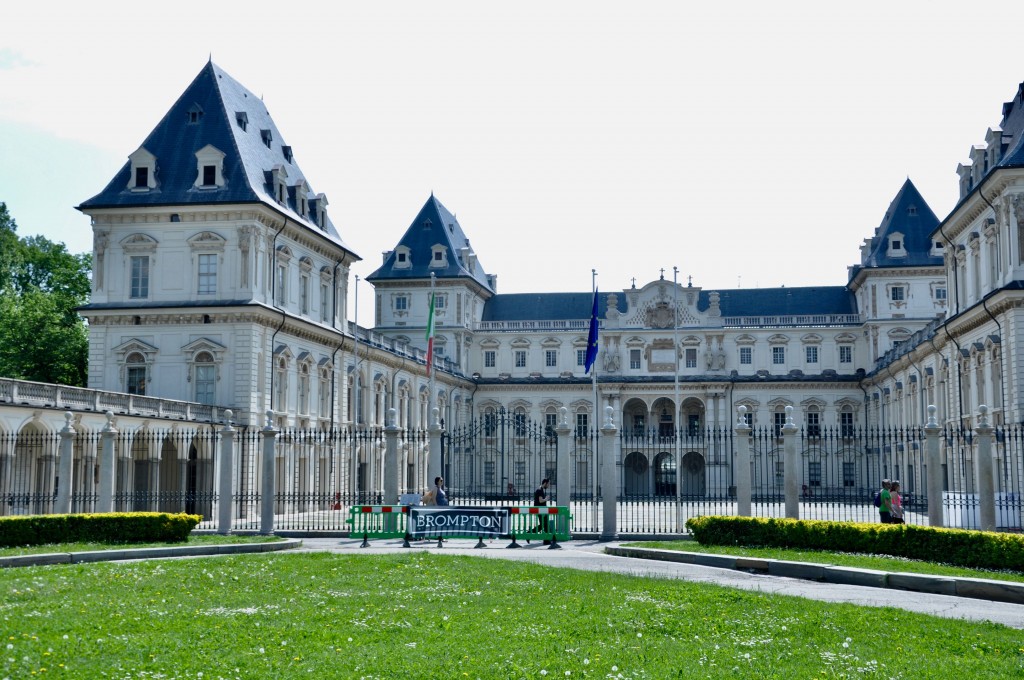 Participants, many, over 300 for the parade at 11:30 and over 140 for the race. The dress code interpreted with classic style, business suit, or with colorful creativity has dotted the Valentino Park. A "window" of some hours of full sun, did the rest to make unforgettable the appointment in Turin.
Since 9 a.m., during the preparation of the area, participants and tourists walking around at Valentino have begun to widen your eyes, surprised by the bikes – the precious Brompton – and their original drivers.
At the reception, together with the welcome of the organizers. the race package was delivered: number, stopwatch chip, souvenir card, meal vouchers and a Brompton-style gadget. A "small maintenance" corner was set up to fine-tune the racing Brompton.
And then, happy moments for greetings, hugs, meetings and pictures. All ready for the parade in the 1,5 Km along the challenging circuit, in an inimitable setting.
Bromptons folded and aligned, trumpet sound and Le Mans style start for the competition. And then … riding, riding, riding to complete the scheduled 10 laps.
During the event, starting from 10:30 am, with Scatol8, the temperature, humidity and weight of the waste collected in the containers for the plastic, paper, heterogeneous fractions were detected.
The Scatol8 network was assembled quickly and data were immediately available online, on the BWC2018 customized dashboard, the Crusc8.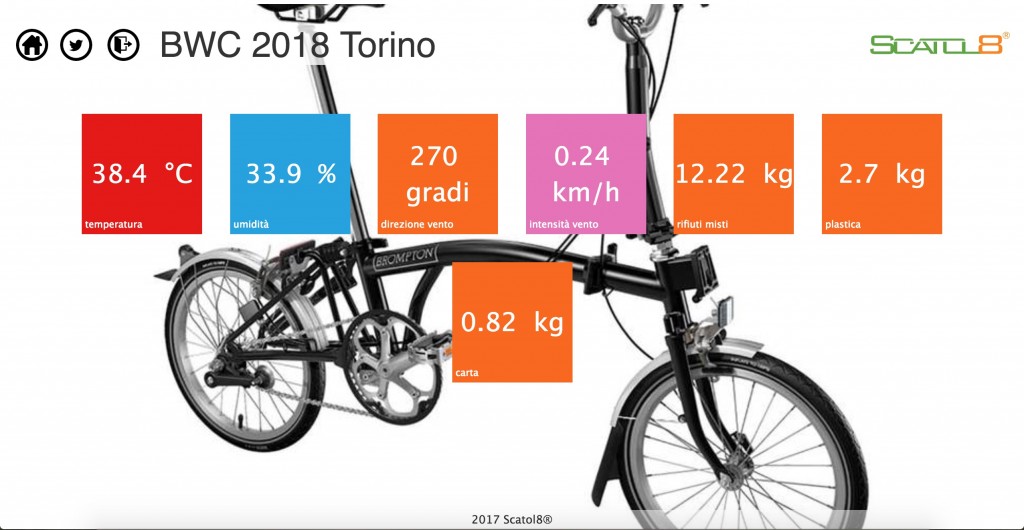 After the research phase "on the field", a virtual "round table" was made, among the members of Scatol8 Team active on Sunday (Riccardo Beltramo, Stefano Duglio, Paolo Cantore, Cristian D'Affuso, Simone Conte), to collect observations on the sustainability aspects of the event and to guide subsequent investigations, to prepare a Sustainability Report of BWC 2018.
Now, the survey addressed to the participants begins: daily use of the bicycle is one of the points we want to deepen; then, the knowledge level of environmental issues and the propensity to adopt virtuous behaviors to improve environmental quality. For those who have come from various parts of Italy, the interest is aimed at knowing the impressions aroused by our city, the length of stay and all that can be used to estimate the costs and benefits of this experience.
(photographs by Stéphanie Grindatto and Lodovico Beltramo)